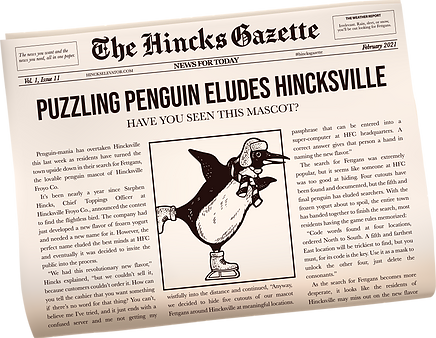 Review
Game Description
"Hello, Puzzler. I'm Mr. Hincks.
​
Are you up for a challenge? Excellent. Subscribe to my Mysterious Puzzle Newspaper and I'll mail it right to your door. Grab a pen and maybe a friend, and spend an hour or two puzzling out its secrets. You may just add your name to the Hincks Hall of Fame!
Until then!
Stephen P. Hincks"
Personal Experience
I'd heard great things about Bluefish Games and their line of Hincks Puzzles. So, when I ordered The Curious Elevator of Mr. Hincks, I figured I'd add an issue of Hincks Gazette to see if it was worth subscribing to it. While I haven't had a chance to get to the Elevator, I had a little bit of free time one evening to give the Gazette a try.
The first thing I noticed when starting it, is just how whimsical and cute the game is. It is a two sided sheet covered in puzzles and printed on authentic feeling newsprint. The main story on the front page lays out the story and objectives and then it's up to you to figure out which puzzles to start and what order to complete them in. All-in-all it took about an hour or so, which was the perfect amount of time for a little puzzle break.
Narrative
The people at Bluefish have created a whimsical little world that shines through even in this two-page puzzle adventure. The town of Hincksville seems like it would be a wonderful place to visit and I'm really looking forward to spending more time there in future installments.
They also have a fun little narrative easter egg included in the game. Every week they publish a secret puzzle in their newsletter; the first person to solve it each week gets their name added to the gazette in-world. They were incorporated well enough in the new stories that I wasn't sure which names were made up and which names were weekly winners. But it definitely makes me excited for the newsletter to come out each week so I can try to get my name in the paper.
Puzzle Play
The puzzles played off of each other really well, with a nice escalation of difficulty from the first puzzle to the last. When you think you have solved the final puzzle, there's a website that will let you check your answer. Successfully completing the puzzle also gets your name on a leaderboard. The website also contains a series of hints, all the way up to the solution in case you get stuck.
Recommendation
This series is delightful and, after playing, I subscribed to receive each monthly issue. If you want to add a little whimsical break to your month, I recommend you sign up!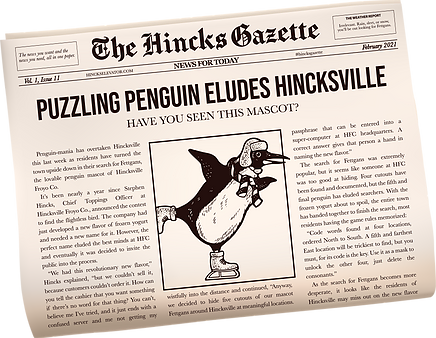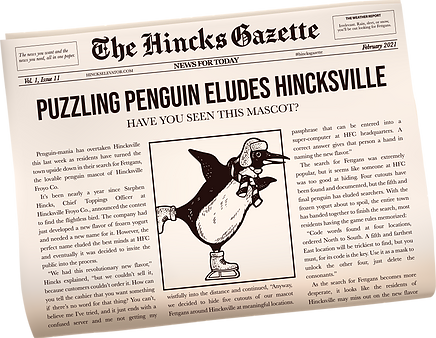 Details
Type of Game: At Home Puzzle Game
Date Played: 2021-03-10
Price: $7 per month
Company: Bluefish Games
Website: https://teambluefish.com
Team Size: 1
Colorblind-friendly: Yes
Outcome: Win