The Curious Elevator of Mr. Hincks
Review
Game Description
"Inventor Stephen P. Hincks has been tirelessly developing a set of confounding puzzles and he is now ready to present them to you.
Solve his enigmas by pairing mysterious physical materials contained in this cryptic parcel with clues from the online elevator. Use the browser-based elevator to verify solutions and navigate through the floors.
Are you ready to outsmart Mr. Hincks and add your name to the Hincks Hall of Fame?"
Personal Experience
I had heard nothing but great things about Bluefish Games and their line of whimsical puzzles, so I ordered a copy of Hinck's Elevator (along with an issue of The Hincks Gazette) with high expectations. I played through the issue of the gazette last week and found it to be delightful, so I was really excited to give this a go.
The Elevator comes in a colorful cardboard box filled with an abundance of professionally printed paper props. Topping off the puzzling pile is a welcome sheet that walks you through how to play the game and directs you to the game's website. When you make it to the website and start the game, you'll find a charmingly illustrated S.P. Hincks who will introduce you to the elevator and get you on your way. Each puzzle is represented as a different floor on the elevator, and you'll need to solve each puzzle to get the password to move on to the next level of play.
The elevator has nine levels, each with their own clever puzzle. If you get stuck, there's an excellent hint system for each level, giving you far more than the usual three hints per puzzle that seems to be the industry standard. Instead, most puzzles had eight or nine hints apiece. The game encourages you to use them if you get stuck, kindly pointing out that while it wants to challenge you, it doesn't want to frustrate you. That's a philosophy that I'd like to see more game developers adopt.
I had a lot of fun with the elevator. I played on my own and was able to finish in just about two hours, needing only two of their gentle hints along the way. As a reward for finishing, I was able to get my name added to the official Hinck's Elevator leaderboard, permanently enshrining myself as the 545th place finisher!

In a generous move on Bluefish Games's part, the game comes with a refill kit that will allow it to be replayed two additional times (if you avoid writing on the game materials). This allows you to gift it to a puzzle loving friend to play through when you're done.
Narrative
The game doesn't feature much of a narrative. You're navigating Hinck's Elevator and solving puzzles, but there's not a particular story behind why you're doing that. That said, the game has created a wonderfully whimsical world, full of charming businesses, whimsical publications, and the delightful Mr Hinck's, who got a few genial lines of voice acting to round out his character. The whole thing felt like a warm hug of a game world, which made the puzzle solving all the more delightful.
Puzzle Play
The puzzles really shine in this game! The nine puzzles are all really well-written and some of them are fiendishly clever. There's no wasted parts, and none of the puzzles extend past their welcome. There was one in particular that did something I've never seen done before in a game, and thrilled me with its novelty.
The first part of each puzzle in the game is figuring out exactly which paper pieces go with that particular puzzle. It's a little more challenging at the beginning of the game, but your options will winnow down as you near the end.
All of the puzzles solve down to a single password, that you use to move the elevator to the next level. As you might imagine with a setup like that, the game employs a variety of ciphers, anagrams, and indexing puzzles. They all felt fair and none felt laborious. The two times I got stuck, a gentle hint nudged me towards (the usually obvious) thing I missed.
Recommendation
Much like the monthly gazette, the Curious Elevator is designed with charm and whimsy on top of a rock-solid puzzling experience. I'd recommend a team of 1-3 players for your play-through. Priced at $37, and able to be played three times with the included refill envelope, the game is an excellent value and has earned a spot on my top five at-home puzzle games list. If you're on the fence about whether or not you'd like to pick this game up, try an issue of The Hincks Gazette first—you will likely want to visit Hincksville again soon.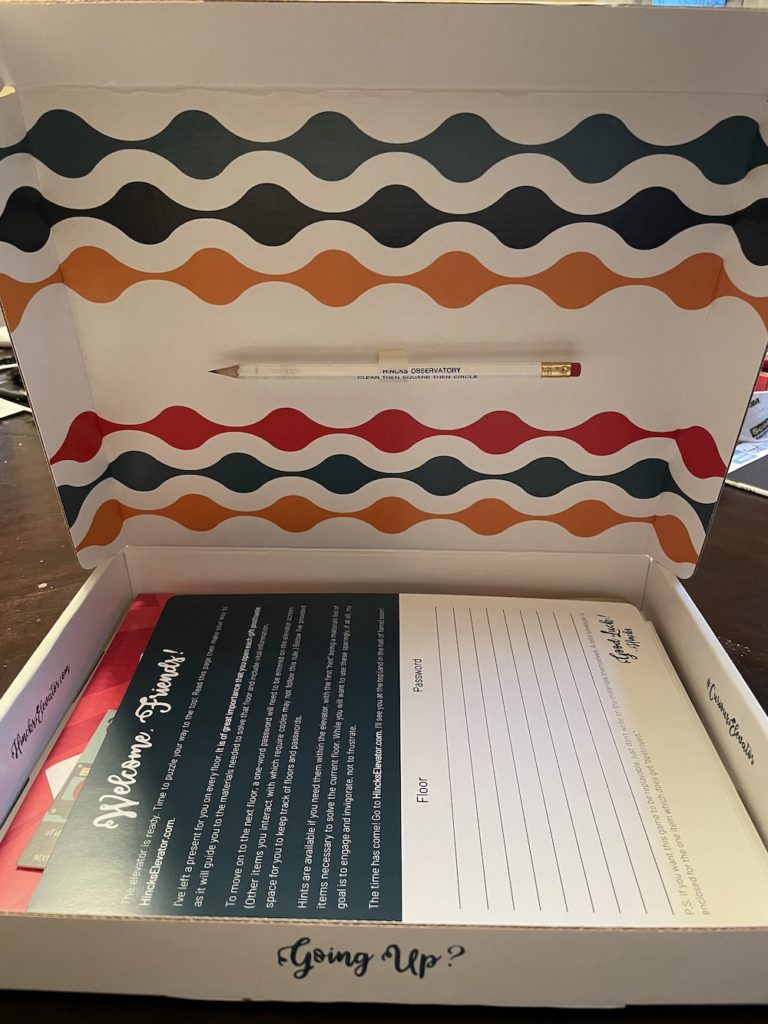 Details
Type of Game: At Home Puzzle Game
Date Played: 2021-03-18
Price: $37
Company: Bluefish Games
Website: https://teambluefish.com/
Team Size: 1
Colorblind-friendly: Yes
Outcome: Win