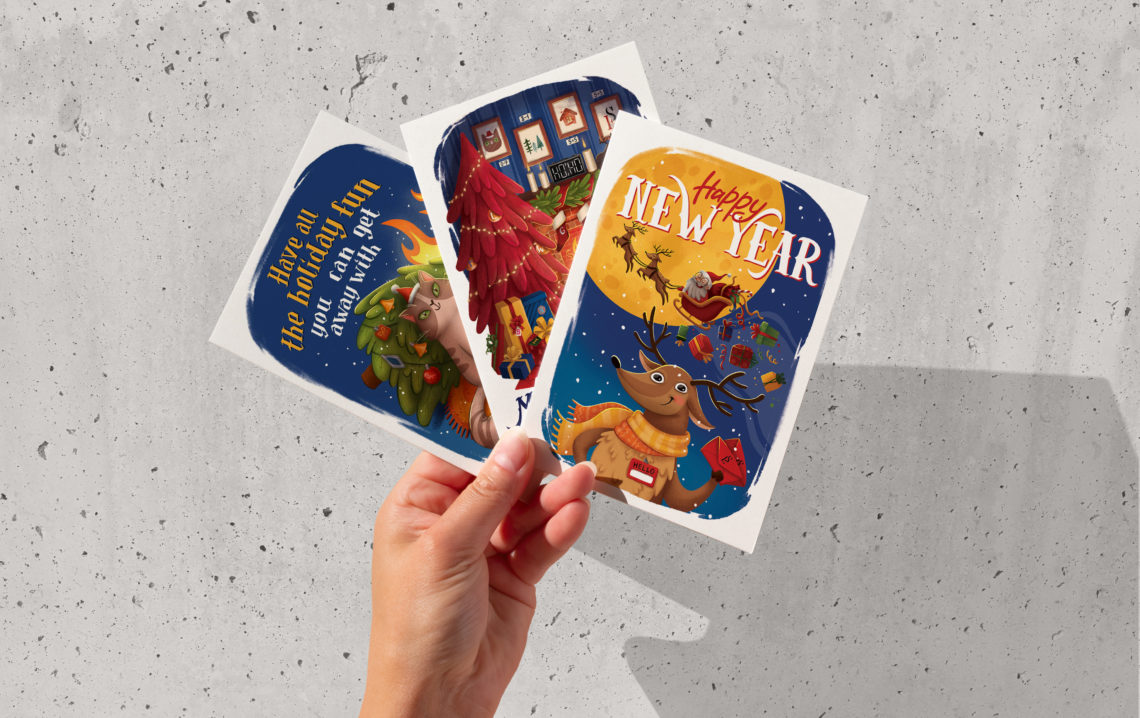 Scarlet Envelope Holiday Puzzle Cards
Review
Note: Scarlet Envelope provided a complimentary copy of this game for review, but that has in no way affected the content of this review.
Game Description
"Santa's Wish: Ditch your typical cheesy Christmas card and impress your loved ones with our puzzle card! Your goal is to decipher Santa's New Year's wish hidden in a cheerful Christmas poem and illustrations."
"Rookie Reindeer: Your goal is to help the rookie Reindeer who had just joined Rudolf's team. A new job can be overwhelming, especially when your coworkers are pranksters, and you have hooves instead of hands!"
Personal Experience
The folks over at Scarlet Envelope asked if I would be interested in trying out and reviewing their two existing holiday puzzle cards ahead of their Kickstarter launch for the third card in their series. I am always delighted to see puzzle games implemented into novel mediums, so I was only to happy to oblige.
I received the cards and played through them on a seasonably hot summer evening in Seattle—the least Christmas-y weather imaginable. However the summer heat didn't detract from the festive cheer that the cards brought to the table, and I had a merry two hours playing through the two experiences.
Narrative
These are small, self-contained little experiences that have the slightest setup in the way of narrative, so I'm going to spend this section evaluating how well they work as Holiday Cards.
Both cards feature excellent art from Tanya Pleshkova that is cheerful, cozy, and Christmas-y1The three 'C's of a good Christmas card!. The poems that guide you through the puzzle experience are whimsical and written in a meter that evokes something akin to A Visit from St Nicholas. Each card includes a space with a few ruled lines for you to write out a message to your intended recipient.
Santa's Wish does a really excellent job of backgrounding the puzzle elements as much as possible, leading to a cleaner card that feels more like a traditional holiday card. (Though as noted ahead in the Puzzle Play section, that increases the difficulty a bit.) The puzzle elements are more obvious on Rookie Reindeer, which makes the card feel a little busier aesthetically than the other one, though it still makes for a very pretty card.
Overall the cards are attractive and well designed and do a great job of conveying holiday cheer, even without the puzzle experience.
Puzzle Play
Santa's Wish has four puzzles and Rookie Reindeer has six. Hiding that many puzzles inside of a single greeting card is a pretty impressive feat.
I found Santa's Wish to be the harder of the two cards. The experience starts with what I found to be the hardest puzzle in the experience. I skipped past it and moved on to the other puzzles, which were a little easier to get through. That led me to a situation where I was able to infer the answer for the first puzzle, based on the other answers. I still wanted to solve the puzzle on its own, and knowing (or, rather, suspecting) the answer in practice only acted as a nudge for me to figure out how to solve it. I would recommend not skipping around, as I think it's a more fun solve to go in order.
Santa's Wish does feature one puzzle that requires color matching, so consider that if you're thinking of sending it to someone who is colorblind. I was able to solve how the puzzle worked and had a friend point out the colors to me, though I would have been stuck on my own.
Even with the higher difficulty and the color puzzle, the puzzles were still a lot of fun to solve, making for a quick 45 minutes.
In my playthrough Rookie Reindeer was a bit longer and a bit less difficult than Santa's Wish2Though Scarlet Envelope officially ranks it as the more difficult of the two. and was easily my favorite of the two. Scarlet Envelope had another year of puzzle design experience under their belts when designing this card and I feel like it shows. Not only were there more puzzles, but the puzzles were even more of a joy to solve. They all felt like they were right in the Goldilocks zone of difficulty and were setup to be done in any order. (They were all colorblind friendly as well!) Even though this card only took me a dash longer to solve than Santa's Wish—about 50 minutes in total—the extra puzzles made it feel like a meatier experience.
For both cards, there is a link to a hint site—featuring good, progressive hints—right on the back. Always a welcome touch for any puzzle experience, but doubly so for an experience that you're likely to send to someone else.
Recommendation
Scarlet Envelope has done a great job of making something that is equally cheerful and challenging, which is especially impressive considering the constraints of the medium.
At the time of this writing, the cards are available in a pack of three including the two I played and a new card—"Clawy Christmas"—made for this year. If you're buying these to send out to a friend or loved one for the holidays I'd recommend sending Santa's Wish to a more experienced player and Rookie Reindeer to a newer player.
And, of course, Santa recommends that you play them yourself before sending them on. 🎅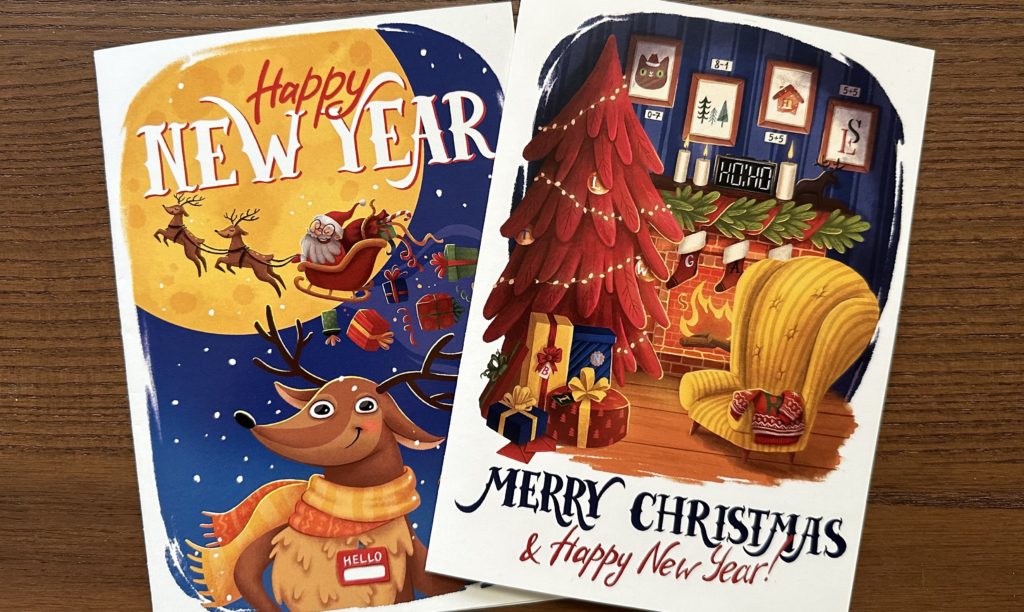 Details
Type of Game: At Home Puzzle Game
Date Played: 2023-08-03
Price: $30 CAD for 3 Cards
Company: Scarlet Envelope
Website: https://scarletenvelope.ca
Team Size: 1
Colorblind-friendly: No and Yes
Outcome: Win