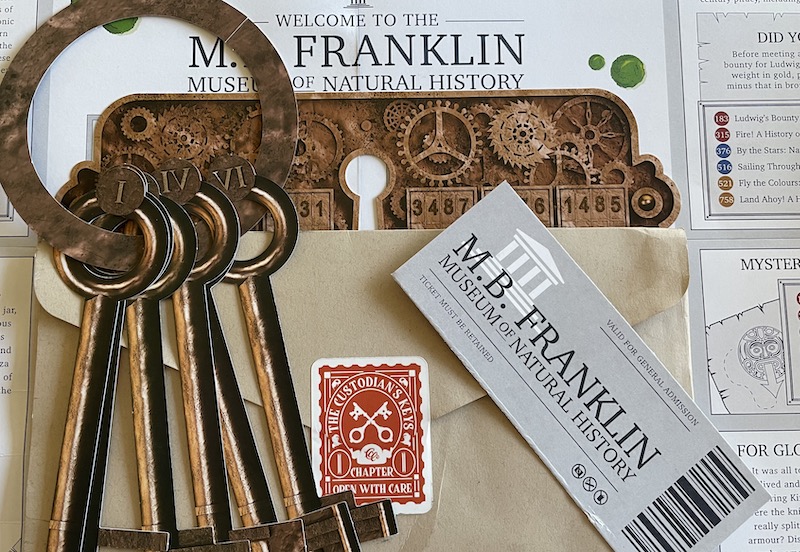 Curious Correspondence Club: The Custodian's Keys
Review
Game Description
"Welcome to the M.B. Franklin Museum of Natural History, a place of knowledge, learning, and curiosity.
When a serendipitous discovery grants you an audience with the Museum's Custodian, a peculiar occurence launches the hunt for a secret hidden within this storied institution.
Will you be able to unlock the secrets?"
Personal Experience
Despite the curious coincidence of the two puzzle-a-month services having very similar names and prices, this is actually a fairly different play experience than Society of Curiosities, and one we quite enjoyed.
While Society of Curiosities is more of a genre-blurring ARG, this experience is more of a classic puzzler. Every month they send you the next chapter in the story in a custom-made envelope. The envelope was smaller than I expected—not much bigger than a greeting card envelope and fairly thin. However, in a pretty neat design trick, it unfolded to reveal a surprising number of components, held in place by a simple paper lock: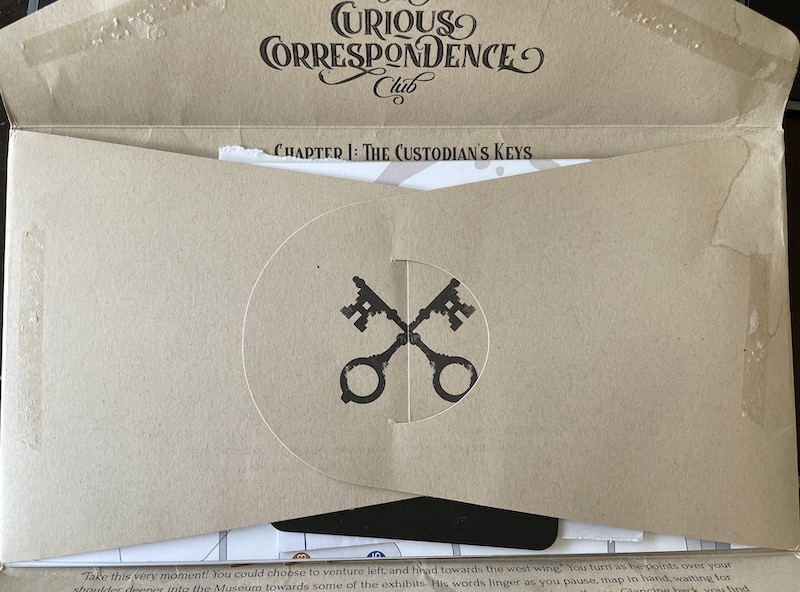 Opening the lock and removing the components reveals a letter cleverly printed on the inside of the thick envelope itself. The envelope also includes a contents checklist card, so you can verify that all of the game components made it into the envelope and that you haven't missed any small pieces; a thoughtful touch that I appreciated.
After you read the introductory letter, the game throws you right into the deep end of the pool. We spent the first 10-15 minutes just looking at the pieces, re-reading the intro letter and an in-game letter, and trying to puzzle out exactly what it was they wanted us to do. It took a moment to get on their wavelength, but we felt extra-clever when everything clicked into place and we had the "Aha" moment of how everything was going to work together. (My favorite kind of moment in any puzzle game!)
All-in-all the chapter took about 90 minutes or so to complete and at the end of it we were eager for the next installment to arrive—which I feel is the sign of a great game.
Narrative
The overarching story of the Curious Correspondence Club is that you are taking on the role of an initiate in a mysterious order that needs you to help unlock a curious mystery with a supernatural bent. It's clear that the Curious Correspondence Club is using its episodic nature to build towards a bigger narrative, but we only got what I felt like were some tantalizing hints at what's to come. The introductory letter and a well-produced video at the end are written in the second-person, which helps you feel like you're part of the story and gives it a bit of a pulp-horror vibe.
This chapter is set in a museum, and they did a great job of keeping the look and feel of the puzzles in theme. While all of the components were made of paper, they were printed professionally on different types of paper, depending on the object.
Puzzle Play
The are six primary puzzles at the core of this experience, each themed around a different museum exhibit. The puzzles were fun and clever, and I appreciated that none of them required a lengthy, time-padding solve process once we figured out how they worked. In addition to the six primary puzzles, there's a final meta puzzle that requires you to have solved five of them, in any order, to finish the game. (The sixth can be easily solved by process of elimination, but it was still fun to go through it to verify the answer.) As mentioned above, there's also an introductory meta puzzle of figuring out how the puzzles work and what to do with the solutions.
Overall the difficulty averaged out to about medium difficulty. New puzzlers might have a difficult time figuring out where to start, but should be able to tackle the bulk of the puzzles without much difficulty once they get on the right track. For anyone that does get stuck, there is an excellent hint system available on the website that provides progressively hintier hints and the solution for each of the puzzles. (It even provides hints for the introductory meta puzzle!)
Recommendation
If you're looking for a monthly puzzle experience and like the novelty of getting international mail (assuming you don't live in Canada), this would be a great game for you. I signed on for a year, and have no regrets after playing Chapter One.
If you're on the fence between this and Society of Curiosities and can only afford one, my recommendation would depend heavily on what kind of game you're looking for. While on the surface there are many similarities between them, they actually are both very different game experiences and both are a lot of fun.
If you're looking for a combination of puzzles and ARG the blurs the line between reality and game, and don't mind a longer wait between substantial installments, then the Society of Curiosities is right for you.
If you're looking for a more traditional puzzle-solving experience and want to get your puzzles every month, then Curious Correspondence Club is your best bet. Either way, you're in for a great time.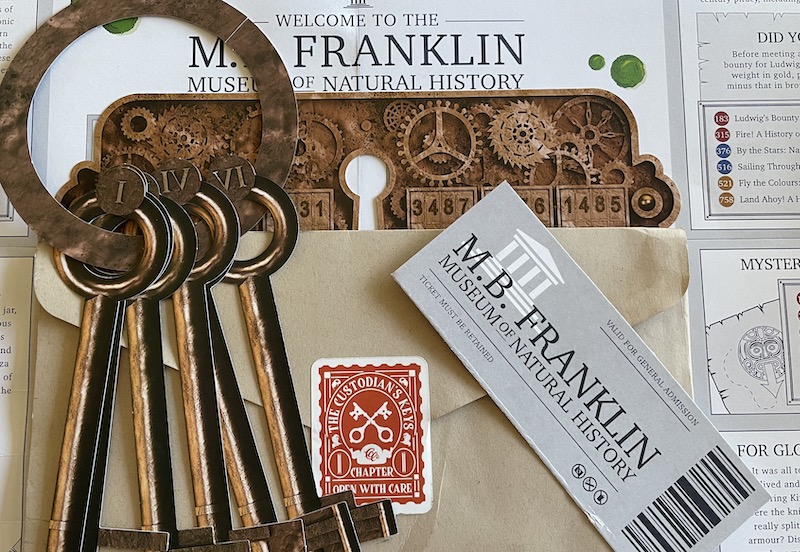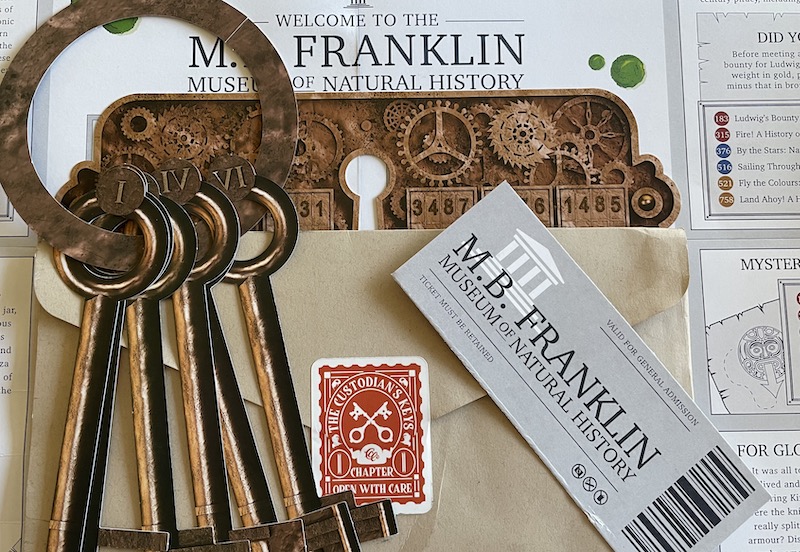 Details
Type of Game: At Home Puzzle Game
Date Played: 2021-02-15
Price: $20 (monthly) / $180 (yearly)
Company: Curious Correspondence Club
Website: https://curiouscorrespondence.com
Team Size: 2
Colorblind-friendly: Yes
Outcome: Win