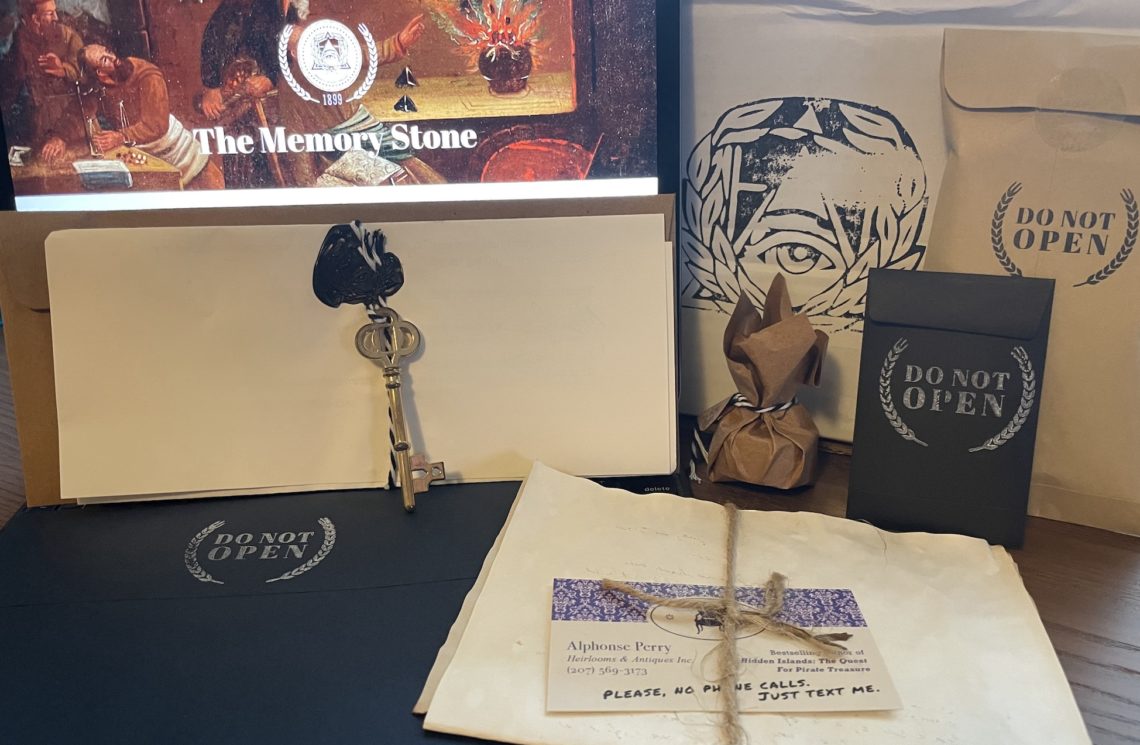 Society of Curiosities: The Memory Stone
Review
Game Description
"A 100-year old cold case is revived. Follow the voyage of a former Society member and unravel a story that will take you from the jungles of Brazil to the heart of Europe in this solve-a-mystery game.
Dispatch your team on the ground and retrieve the fabled Memory Stone!"
Personal Experience
I was pleasantly surprised when this quarter's Society of Curiosities adventure arrived; instead of the normal envelope, this chapter came in a white cardboard box—emblazoned with the Society's "Eye of Providence"-inspired logo on the side. Whatever awaited me in this chapter of the game—the box seemed to imply—was too big to fit in an envelope. Good news, the adventure lived up to the upgraded shipping medium!
Inside the box, I discovered a larger amount of secret envelopes than normal awaiting me—in a tantalizing bevy of shapes and sizes—along with a sealed letter with an attached key, and a couple of aged pieces of paper bound by string. I cracked the wax seal on the envelope and dove straight into the adventure.
Overall it took me about two hours to play through this chapter and make it to the satisfying and intriguing conclusion. I'm more excited than ever for the next chapter to arrive in my mailbox in about three months time.
I've been a big fan of Society of Curiosities previous adventures, but this chapter is Society of Curiosities at the height of their game and prowess. They've clearly been learning and honing their skills with their previous games, and it really shows—the world-building, story telling, and puzzle craft all click together here perfectly.
Narrative
Society of Curiosity games always excel at storytelling and this one is no exception. Unlike in previous chapters where you're deciphering relics and letters that were found by the Society, this time around you're working with letters and communications sent directly to the Society by a Society of Curiosities member from the early 20th century. It's a small difference, but it serves to give you a more immediate connection to this character and his disappearance.
This setup also allows for the puzzles to feel exceptionally mimetic, as it would make perfect sense that a member of a secret society would be sending coded messages back to the society in a situation where they suspected their communications were being monitored.
The story in the present is a globe-trotting adventure, taking you from the jungles of the Amazon to central-Europe with a large variety of locales and characters along the way. Like most Society of Curiosity games, it makes use of their signature, reality-bending alternate reality elements to really drive home the immersion.
Overall, this was a tremendously enjoyable and adventurous romp from beginning to end, with some really fun surprises along the way. I can confidently say that it is my my favorite Society of Curiosities story to date.
Puzzle Play
The puzzles in this chapter were also very good, feeling very naturally integrated into the story and thoughtfully crafted. As usual, the gameplay is run by messaging the Society's signature chatbots. The chatbot for this adventure seems especially well put together, so deftly handling everything I threw at it, that I began to suspect that it might be a real person on the other end massaging the answers. I don't think that's the case1Though correct me if I'm wrong, Michelle and Yacine!, but they are very good.
Despite this being my sixth Society of Curiosities experience, the puzzles here felt fresh and new. They required a greater level of deduction and reasoning than previous games, making it feel pretty difficult at times, but not unfairly so. They lead to some great aha moments, even if I had to take a couple of nudges from the hint system here and there. Thankfully, the hint system is excellent—as always—and they got me to where I needed to be without making me feel like I was having the solution handed to me.
Much of the endgame is based around an unexpected centerpiece late in the game. I don't want to say much about the centerpiece because it was a genuine surprise, but I really liked it and all of the different ways they integrate it into those late game puzzles. It lead to some really great, cinematic moments.
One of the puzzles, unfortunately, required distinguishing between red, green, blue, and yellow. The red and green were completely indistinguishable to me, leading me to go to the hint system for the solution.
Recommendation
Society of Curiosities continues to improve and impress with each outing, so it's a no brainer to recommend this series of games. They're currently among the best in the industry.
This is not the chapter to start on though, for that you'll want to check out the Mysterious Map Heist, their smaller-in-scope-and-price entry point into the series. It's included for free with the first chapter of the series.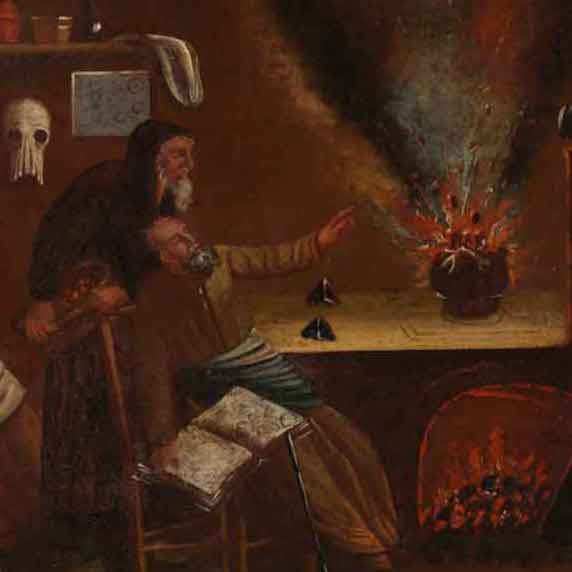 Details
Type of Game: At Home Puzzle Game
Date Played: 2021-08-20
Price: $50 (quarterly) / $180 (yearly)
Company: Society of Curiosities
Website: https://societyofcuriosities.com
Team Size: 1
Colorblind-friendly: No
Outcome: Win